Special tools
Camshaft sprocket holding tool 1 – No.KM-6347.
Camshaft sprocket holding tool 2 – No.KM-956-1.
Camshaft locking tool(s) – No.EN-46781.
Tensioner locking tool – No.KM-955.
Crankshaft pulley hub holder – No.KM-662-C.
Crankshaft locking pin – No.EN-46785.
General precautions
Disconnect battery earth lead.
Remove glow plugs to ease turning engine.
Turn engine in normal direction of rotation (unless otherwise stated).
Observe tightening torques.
If fitted: Mark position of crankshaft position (CKP) sensor before removal.
Do NOT turn crankshaft via camshaft or other sprockets.
Do NOT turn crankshaft or camshaft with timing chain removed.
Valve timing procedures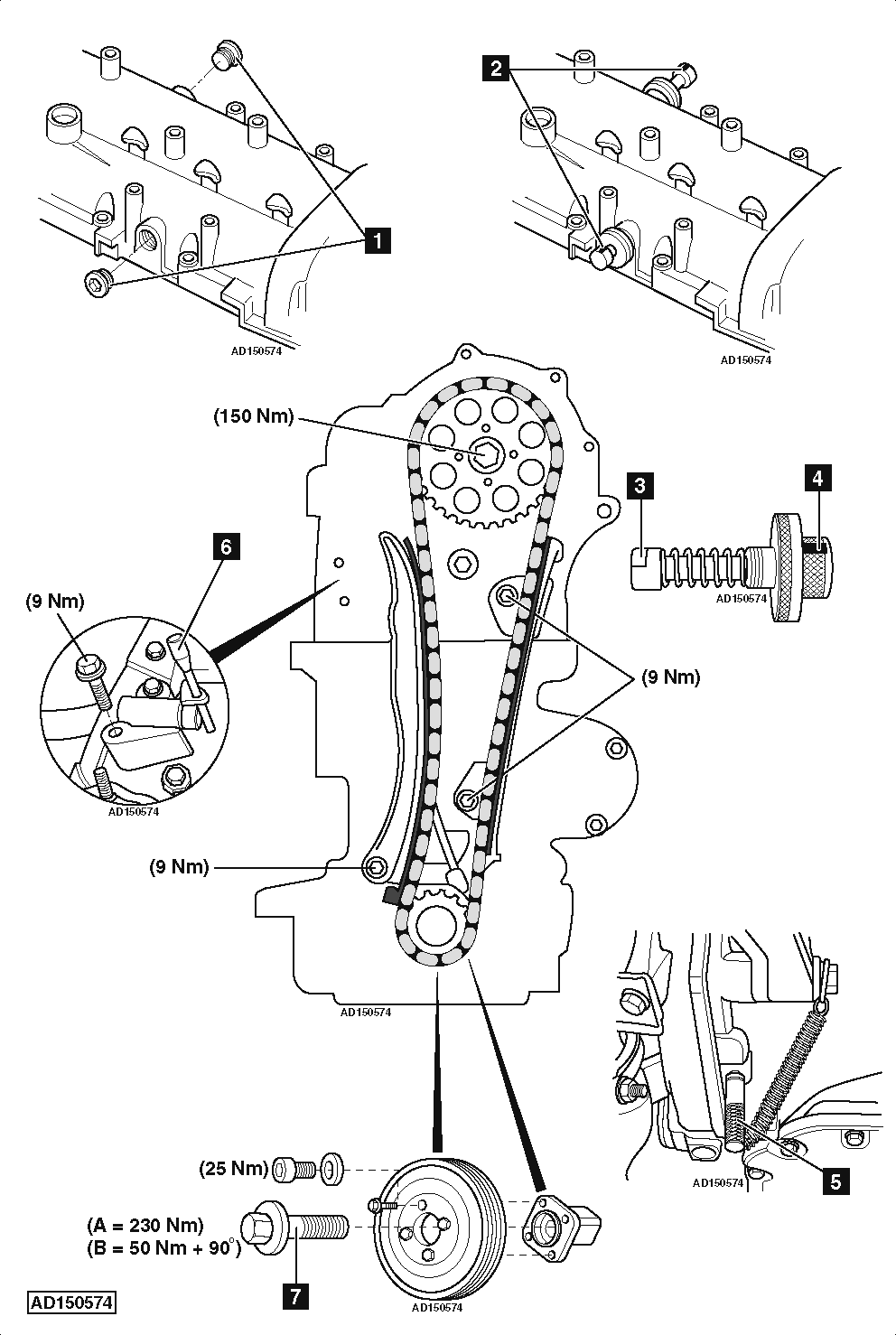 Removal/installation of timing chain requires:
Remove blanking plugs from camshaft housing

[1]

.
Install camshaft locking tools

[2]

.
Flat sections on camshaft locking tools must be in horizontal position

[3]

.
NOTE: Mark position of flat sections on camshaft locking tools with paint before installation [4] .
Turn crankshaft in direction of rotation until both camshaft locking tools are heard to engage.
Install crankshaft locking pin in bell housing hole

[5]

.
Install tensioner locking tool before carrying out engine repairs

[6]

.
Tighten crankshaft pulley hub bolt

[7]

. Tightening torque:

A = Agila/Agila-B/Astra-H/Meriva: 230 Nm.

B = Corsa-C/Combo-C/Corsa-D/Tigra-B: 50 Nm + 90°. Use new bolt.
NOTE: Crankshaft pulley hub bolt has LH thread.