Special tools
Flywheel/drive plate locking tool – No.Mot.582.
Tensioner retaining tool – No.Mot.761.
Timing cover aligning tool – No.Mot.964.
General precautions
Disconnect battery earth lead.
Remove spark plugs to ease turning engine.
Turn engine in normal direction of rotation (unless otherwise stated).
Observe tightening torques.
If fitted: Mark position of crankshaft position (CKP) sensor before removal.
Do NOT turn crankshaft via camshaft or other sprockets.
Do NOT turn crankshaft or camshaft with timing chain removed.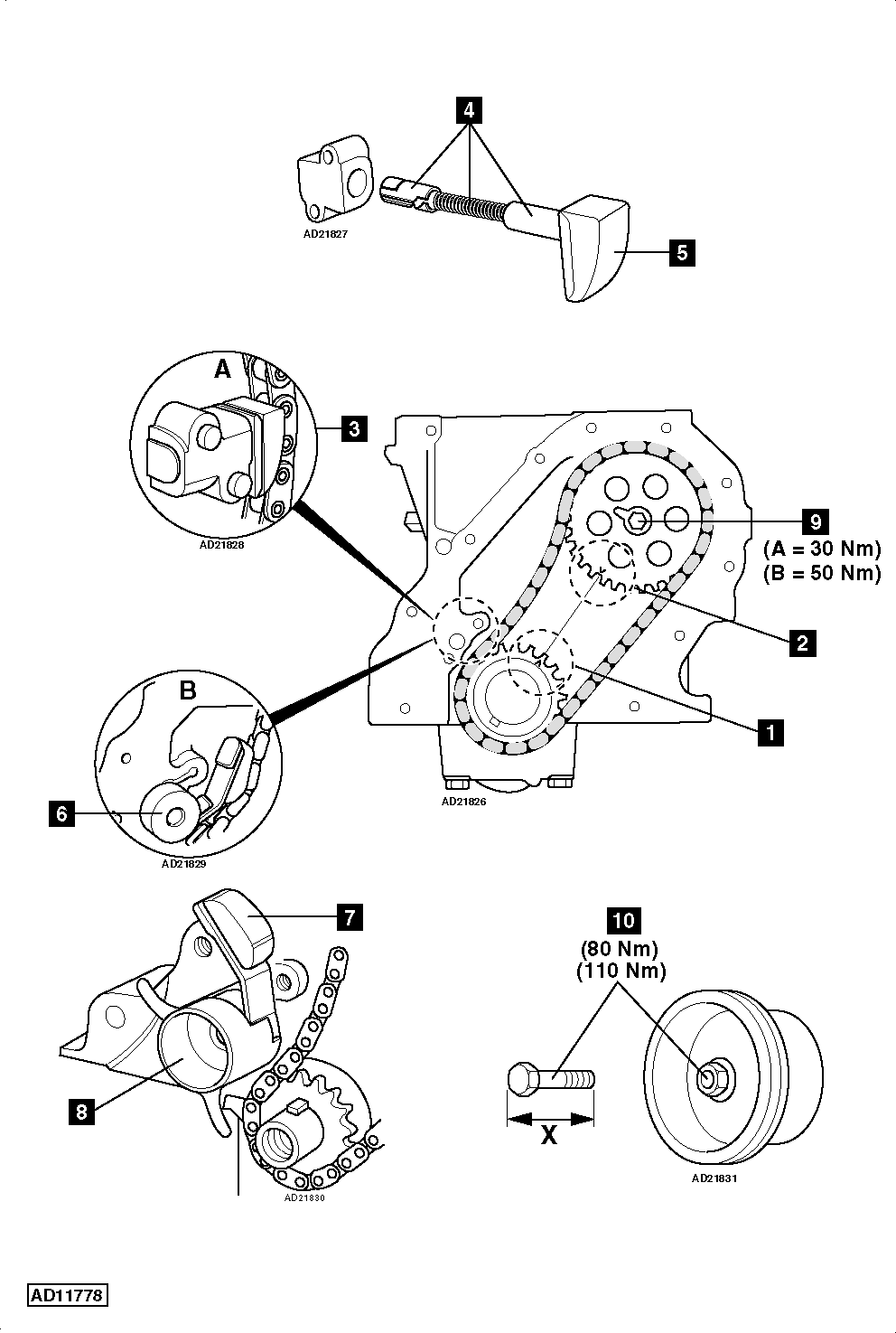 Valve timing procedures
Crankshaft sprocket timing mark at 1 o'clock position

[1]

.
Camshaft sprocket timing mark at 7 o'clock position

[2]

.
Ensure timing marks facing each other on centre line between crankshaft and camshaft

[1]

&

[2]

.
Tensioner
Type A –
[3]
Reset plunger assembly before tensioner installation:

Insert spring and piston into plunger

[4]

.

Push piston in fully and turn clockwise until locked.

Insert plunger assembly into tensioner housing

[5]

.

Install tensioner assembly.
Push plunger into housing to release piston.
Type B –
[6]
NOTE: Type B tensioner does NOT require removal.
Push tensioner arm

[7]

until no longer in contact with chain.
Install tensioner retaining tool

[8]

. Tool No.Mot.761.
Remove tensioner retaining tool after chain installation.
NOTE: Simplex or duplex chains fitted depending on engine type.
To replace camshaft sprocket on engines without securing bolt

[9]

, proceed as follows:

Drill a hole into camshaft 6 mm in diameter and 30 mm deep.

Re-drill to 6,75 mm in diameter.

Remove crankshaft and camshaft sprockets together using suitable puller.
Install new sprockets and chain as an assembly.
Tighten camshaft sprocket bolt, as follows:

Except C1J Turbo – A

[9]

. Tightening torque: 30 Nm.

C1J Turbo – B

[9]

. Tightening torque: 50 Nm.

Tighten crankshaft sprocket bolt as follows:

Bolt length X = 40 mm

[10]

. Tightening torque: 80 Nm.

Bolt length X = 45 mm

[10]

. Tightening torque: 110 Nm.