Hyundai Santa Fe 2.0D CRDi 2002 cambelt change instructions and replacement inteval. Full guide!
Special tools
Special precautions
Disconnect battery earth lead.
DO NOT turn crankshaft or camshaft when timing belt removed.
Remove spark plugs to ease turning engine.
Turn engine in normal direction of rotation (unless otherwise stated).
DO NOT turn engine via camshaft or other sprockets.
Observe all tightening torques.
Repair times – hrs
| | |
| --- | --- |
| Camshaft drive belt/chain – R & I | 4,80 |
| Camshaft drive belt/chain, AC – R & I | 5,00 |
Valve timing procedures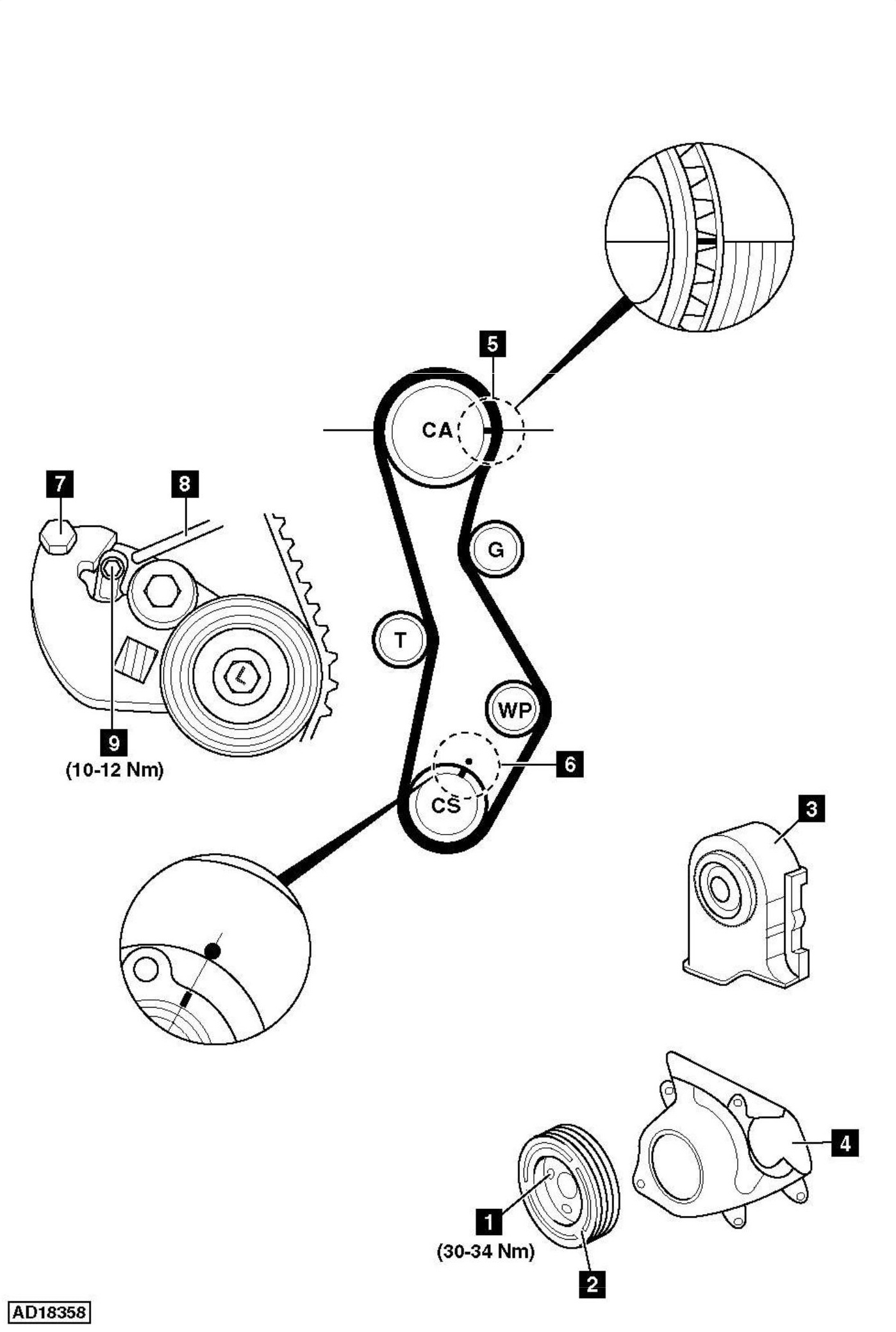 Removal
NOTE: Santa Fe – Due to limited space within the engine compartment it may be necessary to remove the engine from the vehicle or the gearbox mounting and left-hand side driveshaft to enable sufficient access to the timing belt.
Raise and support front of vehicle.
i30 – remove:

RH front wheel.
RH splash guard.

All models – remove:

Engine top cover.
Auxiliary drive belt.
Crankshaft pulley bolts [1] .
Crankshaft pulley [2] .
Timing belt covers [3] & [4] .

Support engine.
Remove:

RH engine mounting.
RH engine mounting bracket.

Turn crankshaft clockwise to TDC on No.1 cylinder. Ensure timing marks aligned [5] & [6] .
Turn tensioner until locking pin can be inserted [8] . Use bolt [7] .
Slacken bolt [9] . Use Allen key.
Turn tensioner clockwise until it touches stop. Use bolt [7] .
Tighten bolt [9] .
Remove timing belt.
NOTE: Mark direction of rotation on belt with chalk if belt is to be reused.
Installation
Check tensioner body for leakage or damage. Replace if necessary.
Ensure timing marks aligned [5] & [6] .
Fit timing belt in following order:

Crankshaft sprocket.
Water pump sprocket.
Guide pulley.
Camshaft sprocket.
Tensioner pulley.

Ensure belt is taut between sprockets on non-tensioned side.
NOTE: Observe direction of rotation marks on belt.
Slacken bolt [9] .
Turn crankshaft slowly two turns clockwise.
Ensure timing marks aligned [5] & [6] .
Tighten bolt to 10-12 Nm [9] .
Remove locking pin from tensioner plate [8] .
Install components in reverse order of removal.
Tighten crankshaft pulley bolts [1] . Tightening torque: 30-34 Nm.