Special tools
Camshaft alignment tool – No.T10252.
Camshaft adjuster socket – No.40080.
Chain tensioner retaining tool – No.T10092.
Chain tensioner locking pin – No.T10115.
Two-pin wrench – No.T10020.
General precautions
Disconnect battery earth lead.
Remove spark plugs to ease turning engine.
Turn engine in normal direction of rotation (unless otherwise stated).
Observe tightening torques.
If fitted: Mark position of crankshaft position (CKP) sensor before removal.
Do NOT turn crankshaft via camshaft or other sprockets.
Do NOT turn crankshaft or camshaft with timing chain removed.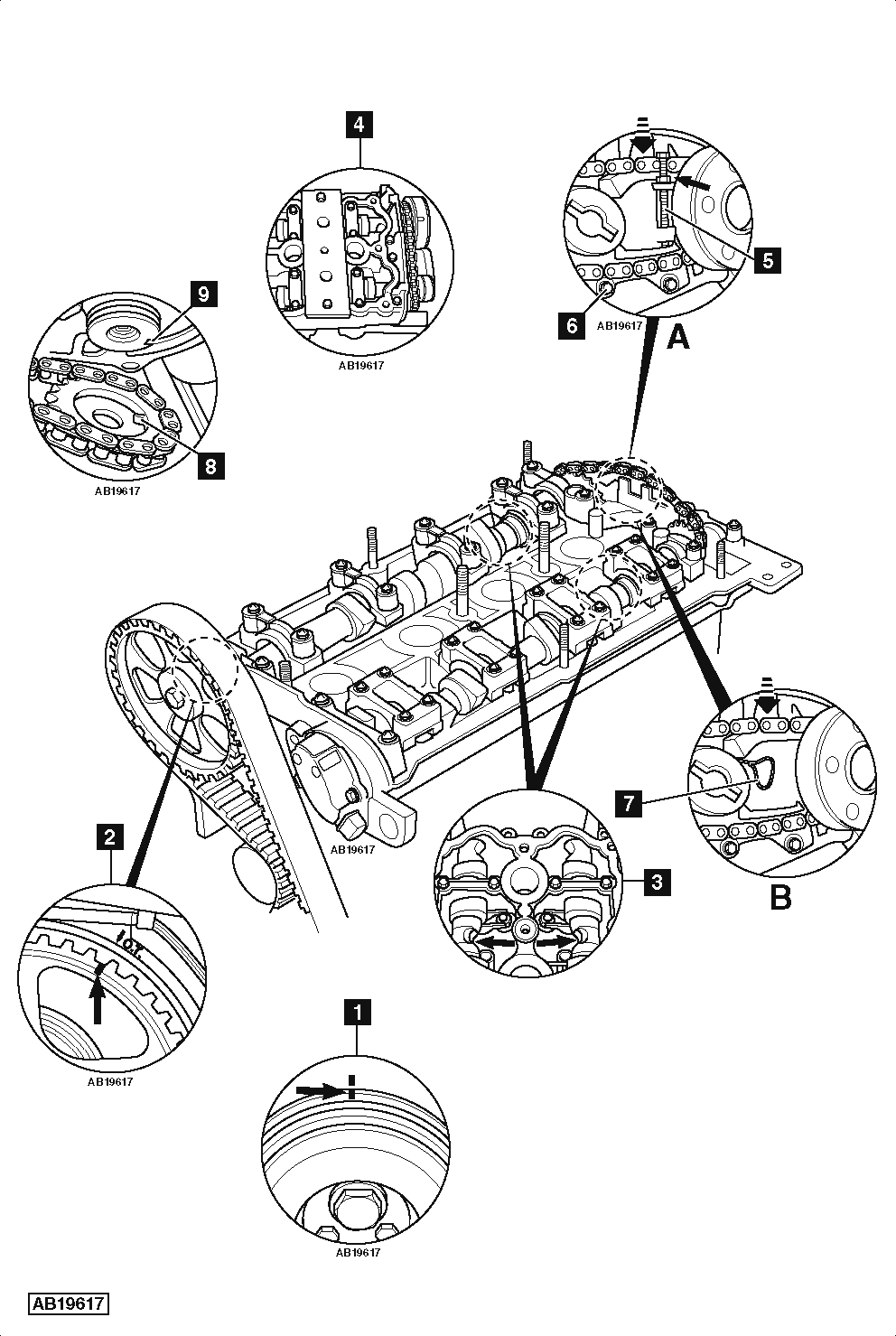 Valve timing procedures
Engine at TDC on No.1 cylinder

[1]

.
Ensure timing mark on timing belt camshaft sprocket aligned with mark on timing belt rear cover

[2]

.
Ensure indents on camshafts positioned as shown

[3]

.
Install camshaft alignment tool

[4]

.
Slacken exhaust camshaft adjuster bolt.
NOTE: There are two types of tensioner.
Tensioner – type A:

Compress timing chain tensioner and lock with retaining tool and M5 nut

[5]

.

Remove timing chain tensioner bolt

[6]

.
NOTE: DO NOT overtighten chain tensioner retaining tool as damage may occur.
Tensioner – type B:

Compress timing chain tensioner and lock with locking pin

[7]

.

Remove exhaust camshaft adjuster and chain.
Ensure engine at TDC on No.1 cylinder

[1]

.
Ensure camshaft alignment tool correctly located

[4]

.
Fit camshaft adjuster and chain. Use new bolt.
Ensure exhaust camshaft adjuster locating pin aligned with notch on camshaft

[8]

&

[9]

.
If not, repeat installation procedures.
Tighten bolt of exhaust camshaft adjuster. Tightening torque: 20 Nm + 45°.
Release tensioner after timing chain installation:
Tensioner – type A:

Install timing chain tensioner bolt

[6]

. Tightening torque: 10 Nm.

Remove chain tensioner retaining tool and M5 nut

[5]

.

Tensioner – type B: