Replacement Interval Guide
Vauxhall recommend replacement as follows:
To 90MY – replacement every 63,000 miles or 7 years, whichever occurs first.
91MY on – replacement every 36,000 miles or 4 years, whichever occurs first.

The previous use and service history of the vehicle must always be taken into account.
Check For Engine Damage
CAUTION: This engine has been identified as an INTERFERENCE engine in which the possibility of valve-to-piston damage in the event of a timing belt failure is MOST LIKELY to occur. A compression check of all cylinders should be performed before removing the cylinder head.
Repair Times – hrs
Remove & install:
Astra/Kadett-E/Astra-F
1,00
Cavalier/Vectra-A
1,20
Calibra
1,50
Special Tools
Tensioning tool – Kent Moore No.KM-666.
Crankshaft pulley bolt socket – Kent Moore No.KM-321-A.
Special Precautions
Disconnect battery earth lead.
DO NOT turn crankshaft or camshaft when timing belt removed.
Remove spark plugs to ease turning engine.
Turn engine in normal direction of rotation (unless otherwise stated).
DO NOT turn engine via camshaft or other sprockets.
Observe all tightening torques.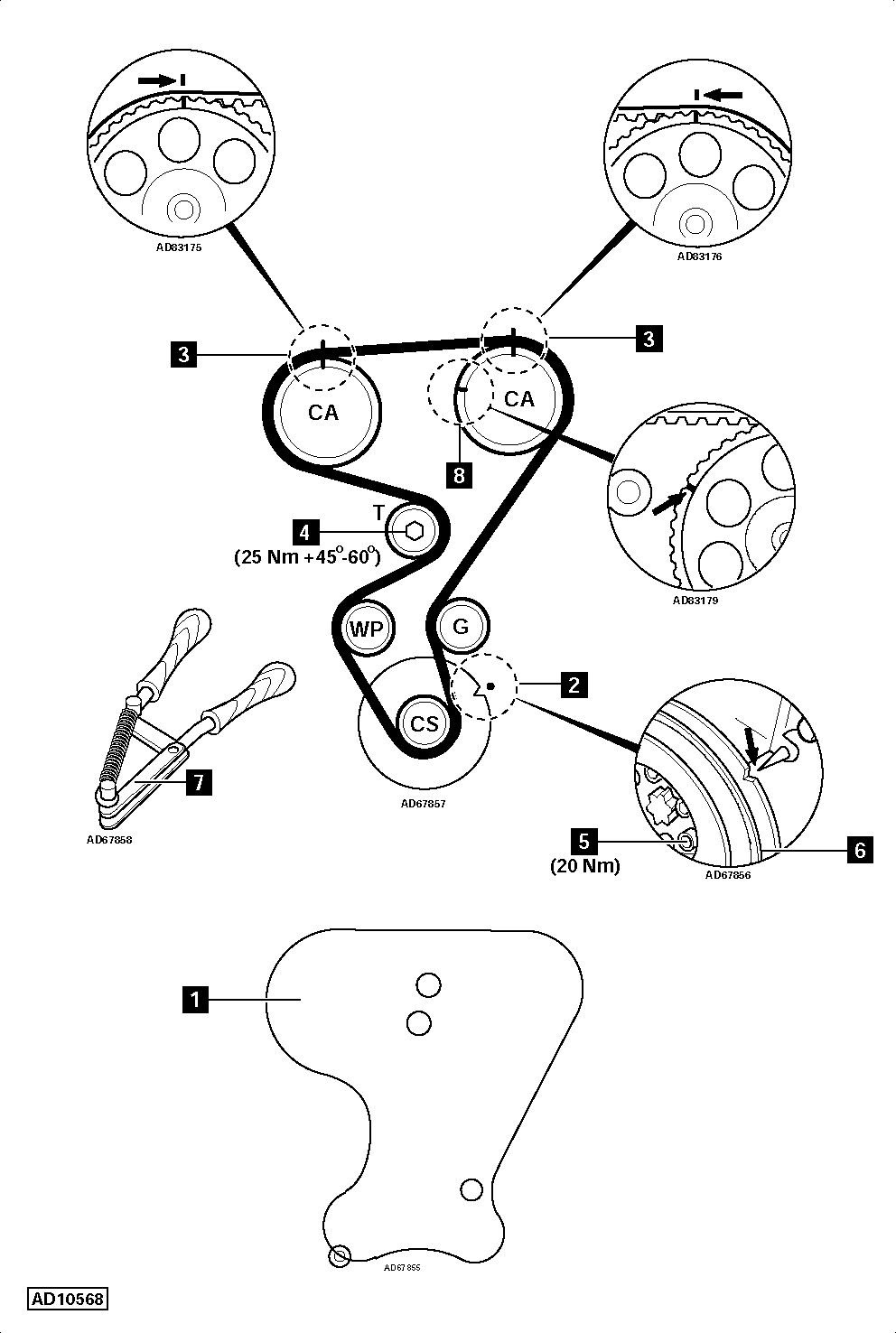 Removal
Remove:
Turn crankshaft until timing marks aligned

[2]

&

[3]

. Use tool KM-321-A.
Slacken oil cooler hose clip. Move hoses aside.
Remove:

Crankshaft pulley bolts

[5]

.

Slacken tensioner bolt

[4]

.
Remove timing belt.
Installation
NOTE: DO NOT refit used belt.
Fit timing belt, starting at crankshaft sprocket. Ensure belt is taut between sprockets on non-tensioned side.
Fit crankshaft pulley. Tighten bolts to 20 Nm

[5]

.
Mark 8th tooth anti-clockwise from TDC mark on camshaft sprocket

[8]

.
Tension timing belt. Use tool KM-666

[7]

.
Turn crankshaft two turns clockwise until mark on 8th tooth aligns with timing mark on timing belt rear cover

[3]

.
Tighten tensioner bolt

[4]

. Tightening torque: 25 Nm + 45-60°.
Remove tensioning tool.
Turn crankshaft until timing marks aligned

[2]

&

[3]

.
Install components in reverse order of removal.