Special tools
Camshaft locking tool – No.3268 or T10068.
Crankshaft pulley holding tool – No.3273/3406 or T10069.
General precautions
Disconnect battery earth lead.
Remove spark plugs to ease turning engine.
Turn engine in normal direction of rotation (unless otherwise stated).
Observe tightening torques.
If fitted: Mark position of crankshaft position (CKP) sensor before removal.
Do NOT turn crankshaft via camshaft or other sprockets.
Do NOT turn crankshaft or camshaft with timing chain removed.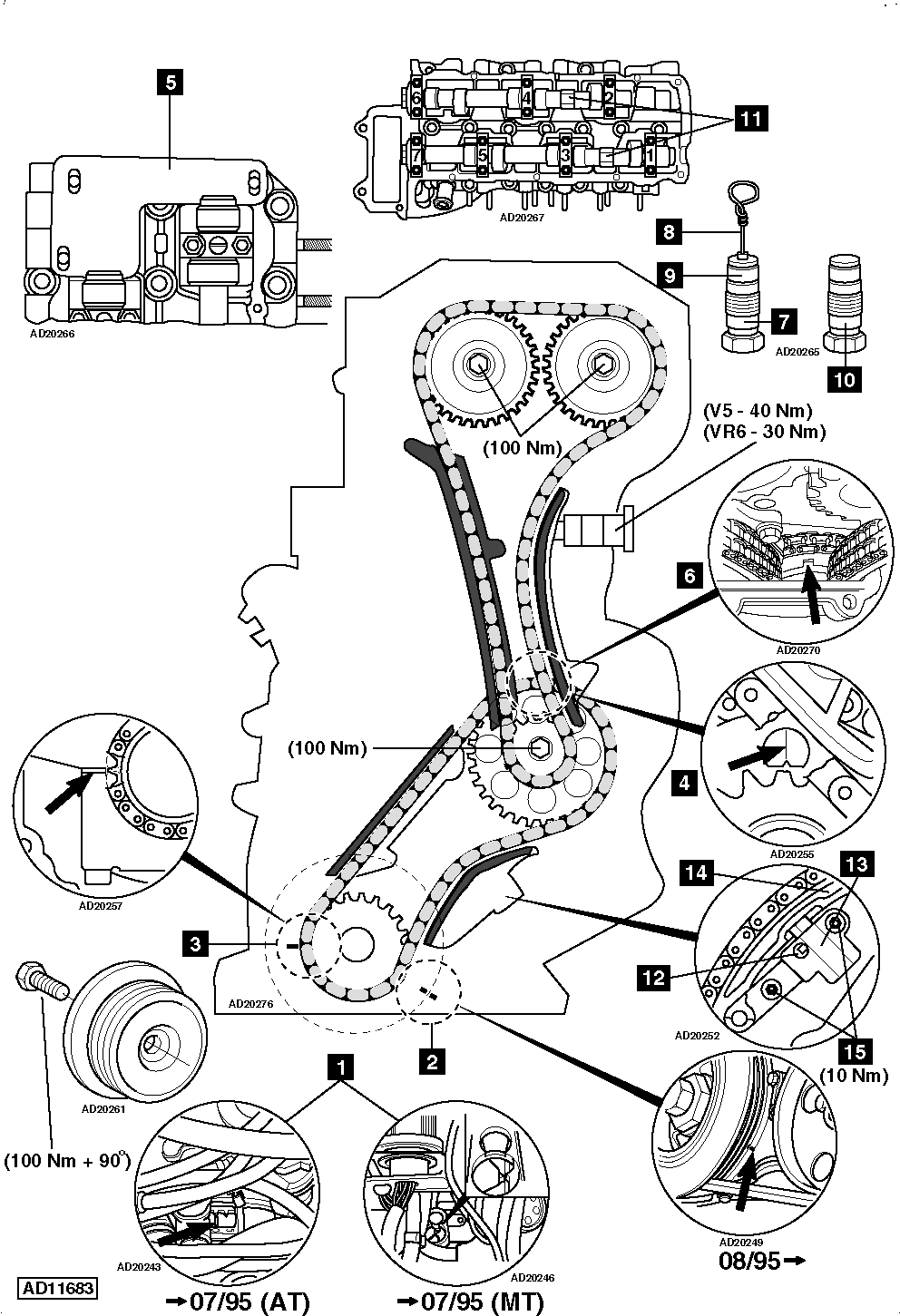 Valve timing procedures
Timing chains located at rear of engine. Transmission removal required for repairs.
Engine at TDC on No.1 cylinder

[1]

,

[2]

or

[3]

.


NOTE: Ground tooth on crankshaft sprocket aligned with rear main bearing joint

[3]

.

Ensure intermediate shaft sprocket timing marks aligned

[4]

.
Fit locking tool to camshafts

[5]

. Tool No.3268.
Remove tensioner(s) to ease timing chain removal/installation.
During cylinder head repairs, with engine installed:

Engine positioned correctly at TDC on No.1 cylinder

[1]

or

[2]

when slot on intermediate shaft sprocket visible

[6]

.

If slot not visible, turn crankshaft one turn.

Camshaft on early engines driven by duplex timing chain, tensioner MUST be bled before installation

[7]

:

Push 0,8 mm wire through oil drilling up to ball valve

[8]

.

Compress plunger into housing onto stop

[9]

.

If plunger moves out again, repeat bleeding procedure.

Camshaft on later engines driven by simplex timing chain:NOTE: All V5 engines have simplex timing chain.

Tensioner has no oil drilling

[10]

.

NOTE: If replaced, ensure correct tensioner fitted.

Tensioner MUST NOT be bled.

Lubricate camshaft sprocket bolt mating face during assembly.
Camshaft rotation can be prevented using 24 mm spanner at positions shown

[11]

.NOTE: DO NOT use camshaft locking tool

[5]

to prevent camshaft rotation.
Install tensioner(s) after timing chain installation.
After installation, reset lower timing chain tensioner:

Release locking mechanism

[12]

. Use screwdriver.

Push chain tensioner

[13]

against tensioner guide

[14]

.

Tighten tensioner bolts

[15]

. Tightening torque: 10 Nm.
NOTE: Crankshaft pulley bolt MUST only be used once.