Special tools
Camshaft alignment tool – Tool No.T10171.
Dial gauge – Tool No.VAS 6079.
Dial gauge holder – Tool No.T10170.
Tensioner locking tool – Tool No.T40011.
Crankshaft pulley/camshaft sprocket holding tool – Tool No.T10172.
General precautions
Disconnect battery earth lead.
Remove spark plugs to ease turning engine.
Turn engine in normal direction of rotation (unless otherwise stated).
Observe tightening torques.
If fitted: Mark position of crankshaft position (CKP) sensor before removal.
Do NOT turn crankshaft via camshaft or other sprockets.
Do NOT turn crankshaft or camshaft with timing chain removed.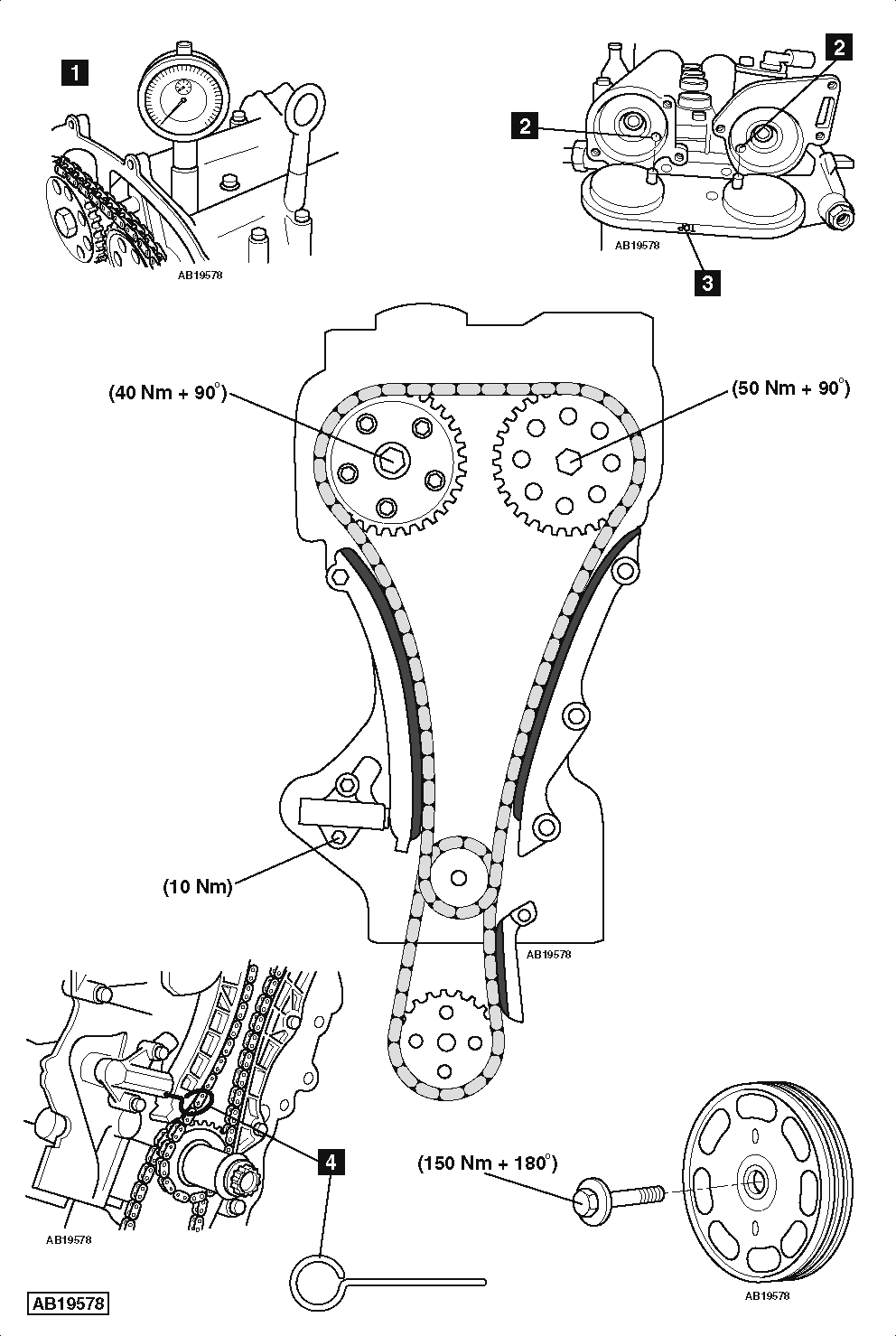 Valve timing procedures
Removal/installation of timing chain requires:

Timing chain cover removal.

Install dial gauge and holder in No.1 cylinder plug hole. Ensure engine at TDC on No.1 cylinder

[1]

.
Ensure timing marks on camshafts aligned as shown. If not, turn crankshaft 360°

[2]

.
Fit camshaft alignment tool

[3]

.


NOTE: If camshaft alignment tool cannot be inserted valve timing is incorrect.

Fit tensioner locking tool

[4]

.
Remove camshaft sprockets and chain.NOTE: Inlet camshaft sprocket bolt has LH thread.
Align camshafts. Use special tool

[3]

.
Install camshaft sprockets and timing chain.
Tighten camshaft sprocket bolts. Tightening torque:

Inlet camshaft sprocket – 40 Nm + 90°.

Exhaust camshaft sprocket – 50 Nm + 90°.

Tighten crankshaft pulley bolt to 150 Nm + 180°.
NOTE: Crankshaft pulley bolt and bolt on each camshaft sprocket MUST only be used once.
Remove camshaft alignment tool. Turn crankshaft two turns clockwise.
Check valve timing

[3]

.